The International Training for Safer Food (ITS Food) is an advanced international training event on the subject of food safety risk management.
ITS Food provides you with in-depth knowledge on food safety as well as risk and crisis management in Germany and the European Union. The training will cover relevant aspects which are crucial to a comprehensive risk management for safe food, feed and consumer products. In each session, a specific topic of global relevance is highlighted. For example, previous courses included a state-of-the-art insight into food fraud and food authenticity, into control programmes and crisis management as well as lab visits.
The intention of this training program is to increase knowledge and foster mutual understanding on food safety risk management amongst participants from public food safety bodies.
Practitioners from competent authorities, official laboratories and research institutions will share their insight and experience in order for participants to increase their level of expertise, share and identify best practices in their field of work, check out various tools for the different tasks and take home knowledge to share with colleagues. Participants will enjoy a high-level and hands-on technical exchange and have the opportunity to build new networks with colleagues from around the globe.
Download the flyer here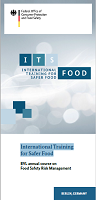 Cameroon
Date
16 - 19 October 2023